ՊՈՐՏ
Port/ Navel/Umbilical cord
Nakharar. On the surface, some may think the word is made up of "nakh/pre" and "arar/doer,maker". It in fact means navel, umbilical cord.. See below.
In the Armenian ՊՈՐՏ/port also means generation. As when it advised to not marry within "7 generations/Եօթը բորտ".
According to Ajarian it is sometimes known as փոր/por/որովայն/abdomen, and as the case may be պորտաքար, the topping stone of a dome/arch. A keystone?
http://sugarmtnfarm....5630-706581.jpg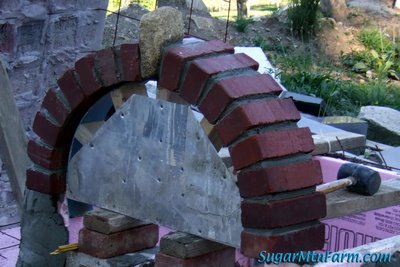 The following is from here;
http://hyeforum.com/...=1
ՆԱԽԱՐԱՐ-«իշխանական մի աստիճան հին հայոց մէջ, իշխան, աւագանի» . նախարար. ՍԳր. որից նախարարագունդ Կորիւն. նախարարակոյտ Ագաթ. Բուզ. նախարարապետ Եւս. քր. եւն: (origin:) իրան.
--
The above internet version omits the most interesting parts.
Among many interjections Ajarian says that the word "nakharar/ՆԱԽԱՐԱՐ" can be found in the Persian/Pahlavi as "naf-arar" to mean "navel/ՊՈՐՏ(շարաւիղ)".
Ըստ երեւոյթի մենք պիտի ենթադրենք դա նշանակի «նախ-pre-first», նոյնիսկ «նահապետ» բառը կապեալ է «նահ-պորտ» բառին:
Look at the similarity of the Persian "naf" and the English "navel". Even now in the Persian language ناف /naf means "navel" umbilical cord/ belly button/պորտ:
The above internet does not get into how the Pahlavi F becomes H/KH in the Armenian as in "freshteh" (F=H) to "hreshtak/հրեշտակ" and how "naf" becomes "nah" and further in dialects it becomes "nakh/նախ.