That is wonderful Nane. How sweet!! I don't know that song. Is there an audio/video of it?
Let me sing to her too. Yes, I can sing.
Ոսկի խաչ վըզիդ՝ քեզի պահապան,
Նարօտ կապել է ծարէն տէրպապան՛
Օր-օր իմ պաալս, օր-օր ու նանի,
Իմ անուշիկիս քունը կը տանի՛
Remember where we spoke about "թզուկt@zouk" that it is based on the Armenian word "ԹԻԶ/hand span ".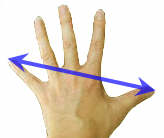 Edited by Arpa, 18 March 2011 - 11:58 AM.