Hetq.am Keeping the Tradition Alive: Argentine-Armenian Singer Loves the Old Melodies
Mаry Mamyan
11:07, March 29, 2014
The repertoire of Argentine born and bred singer Valeria Cheregian includes Spanish tangos and old Armenian melodies. While the tangos convey her fiery nature which Valeria masterfully imparts on stage, the Armenian songs transport her back to her roots.
"These two musical traditions move me when I hear them. These songs live within us, in our hearts and souls. They are a part of me, as well as my father and grandfather," says Valeria. A lawyer by profession, Valeria decided to devote her life to music.
"When I was born, the first sounds I heard were Armenian melodies. These were passed on m\by her grandparents who came to Argentina before the 1915 Genocide. The singer has been to Armenia three times and plans to visit again.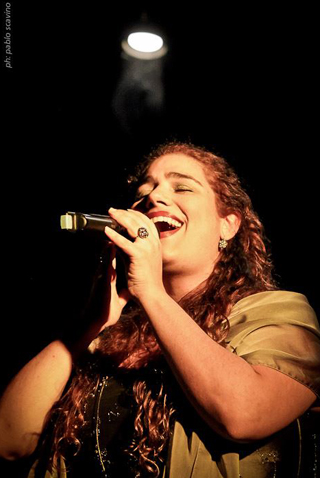 Valeria says that while in Armenia she feels like a stranger and a native at the same time. "When I come to Armenia, it's like I'm coming home. I don't want to leave but I have to," she says.
The first Armenian music Valeria heard was the singing of her paternal grandparents. They loved to sing the old melodies and Valeria especially remembers "Oror" (The Lullaby) "It's my favorite. It's my song. I always perform it at my concerts," she says.
Valeria says her decision to become a singer resulted from the fact that she spent her childhood with her grandparents. The family says she takes after her uncle who also was a singer. He was the one who introduced her to the Spanish tangos that she now performs.
She especially likes the songs of the Armenian bards and troubadours because of their lyrical simplicity and because they relate the lives of villagers at work in the fields. They may be simple melodies but they pack a powerful punch, Valeria explains.
Valeria says that these songs are full of pathos and emotion, and sometimes she finds it hard to translate some of the words into Spanish. For example, she says that she still hasn't found the best way to translate the expression "matagh linem kez".
She says the songs of Gomidas are also simple melodies that conceal great passion under the surface. "They are really hard to present correctly on stage," says Valeria. She confesses that it's a challenge to preserve Armenian culture in the diaspora. 
Five months ago Valeria gave a concert in Buenos Aires for the Armenian community. She says that while it was a success it's difficult to organize such events.
"I do it because I have to. There are many of us [Armenians] and not so many. It's a large community but not many attend cultural events. I perform because I love the Armenian culture and it's important for artists in the diaspora to keep the culture alive."
Right now, Valeria is working on a musical program she hopes to perform in Armenia.