The Calouste Gulbenkian Story
by Fred Stern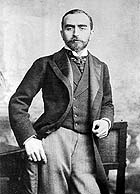 Calouste Gulbenkian
in his late 20s
If your wealth makes Aristotle Onassis look like a pauper, and your taste does not run to fancy yachts and celebrity women, you can afford to please the sensitivity of your eyes, the dream castles of your mind, the velvety touch of your fingers, and your art collection is poised to become the envy of decades of collectors in the future.
You are Calouste Gulbenkian and highlights from your collection are now on view at the new Greek galleries at New York's Metropolitan Museum until Feb. 27, 2000.
Calouste Gulbenkian (1899-1955), sometimes known in the press as "Mr. Five Percent," was the architect of a fabulous network of pipeline deals that made him one of the wealthiest men this side of Istanbul. He got his start after his affluent parents sent him to Kings College, London, where he received an engineering degree with distinction. At age 22 he wrote a book on the management of petroleum resources, which came to the attention of the Turkish minister in charge of the oil fields of the Ottoman Empire. In short order Gulbenkian engineered the creation of the Turkish Petroleum Company and set up a consortium between the Anglo-Persian Oil Company, Royal Dutch Shell and Deutsche Bank.
But Gulbenkian was also an avid collector. He began collecting Greek and Roman coins in early boyhood and then expanded his activities in the early 1920's. Soon no museum or private collector could match his resources, determination and his connoisseurship. Norton Simon and his mini-Louvre in Pasadena, replete with Rembrandts, Bassanos, Gauguins and Asian acquisitions, pales against Gulbenkian's treasures. The Duke of Bedford's 24 Canalettos are no match. The 12 Holbeins of Prince von Fürstenberg and Donaueschingen don't come close.
What did Gulbenkian collect? More precisely, what didn't he collect. Aside from his requirement that any acquisition be "only the best," Gulbenkian insisted that all his objects have a classical orientation, whether they be paintings or sculpture, jewelry or ceramics, Persian rugs or the exquisite creations of brooches by French jeweler/designer René Lalique (1860-1945).
We have no way of assessing the collecting history of this Armenian-Portuguese connoisseur. When you are this rich you can change your mind as many times as you like, switch in and out of fields, areas of collecting or artists whenever the whim strikes you. Gulbenkian's "mistakes" made fabulous wedding gifts.
If what he craved was unavailable on the open market, he approached the likes of the Rothschilds and Pierpont Morgan and bargained for their prized possessions. He usually got his way in the end, but sometimes, reluctantly, he backed off from an item he had his heart set on, such as the Goya Duchess of Chinchon.
Gulbenkian's executors funded the Gulbenkian Foundation in Portugal with an endowment of $2.6 billion and an annual budget of $102 million. Housed in a palace-like structure, and set in a 17-acre park replete with a permanent sculpture display and a children's art center, the foundation holds all 6,800 artifacts of Gulbenkian's collection "under one roof," as stipulated. The current Met show, which features 80 works, is a result of renovations at the Lisbon center.
Edouard Manet's Boy Blowing Bubbles (1807), though reminiscent of Jean Baptiste Siméon Chardin's Soap Bubbles, matches freshness and delight with the innocent pleasures of childhood. This impressive late Gulbenkian purchase (1943) is from the estate of Adolf Lewisohn.
Joseph Mallord William Turner's Wreck of a Transport Ship (1810) is a searingly dramatic picture of a ship and its human cargo caught in a destructive maelstrom. The painting is organized around diagonal masts and broken oars while brilliant shards of color of the about-to-be shipwrecked contrast with the white spray of the indifferent waves. The helplessness of the passengers is clear.
The spirit of quattrocento Florence is caught refreshingly in the image of the Portrait of a Young Woman (1485) by Domenico Ghirlandaio. The coral necklace provides a wonderful transition between lips, hair and a suitably simple dress.
In sculpture, too, Gulbenkian went for the very best and so we have Jean-Antoine Houdon's Apollo (1790), a sand-cast bronze sculpture that waited for completion while Houdon was in Virginia working on his bust of Washington. The image of the immensely beautiful head of Apollo with its crown of flowing hair has found wide dissemination as a relief medallion.
Gulbenkian, a devoted Egyptologist, managed to locate a rare bronze sculpture with gold and copper inlay from Dynasty XXIII, the reign of King Pedubast, 818-791 B.C. Richly ornamented with divine figures and encrustations in gold and copper, the 10-inch-high artifact attests to the vitality and artistic excellence of a stormy period in Egyptian history.
A Jewel for the Eagles and Pines Choker (ca. 1899-1901) is an enormous rectangular cabochon opal, lightly touching pine branches whose needles are enhanced by golden pine cones hiding two eagles enameled in dark blue. This pin and others were bought directly from its creator, René Lalique, in July 1901 when Gulbenkian was all of 12 years old!
My eye was attracted to Japanese objects, especially the exhibition's only writing box. Writing boxes, used primarily by traveling savants, were typically lacquered with relief decorations, and are among the most admired artifacts in Japanese art. The example on view is almost overly rich in its intricacies, displaying a folding screen, a grove of trees, an owl sitting in a branch, a hawk chained to a perch, a clothes rack with robes and two inros (pouches that held tobacco or medicine). Two other inros on view are equally ornate and impressive.
Gulbenkian also gloried in Turkish (Iznik) ceramics. In his collection their stunning forms span the centuries beginning with the 1600's. Rich examples of Persian carpets, hangings and panels suggest how much more is housed at the Foundation in Lisbon.
FRED STERN writes on art and antiques.
http://www.artnet.co...stern1-7-00.asp
[ March 04, 2001: Message edited by: MJ ]