Arminfo, Armenia
April 26 2019
Ani Mshetsyan
US Congressman: Turkish President`s Statement on Armenians on April  24 was a disgusting denial of historical facts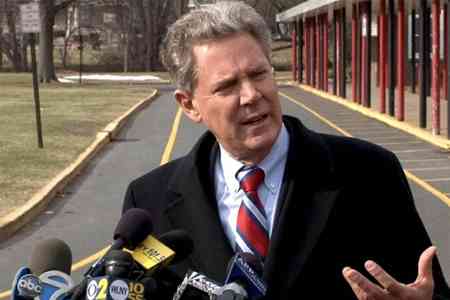 ArmInfo. Member of the US House of Representatives Frank Pallone commented on the statement of Turkish President Recep Erdogan about the Armenians in the Ottoman Empire.
"This hate-filled speech Erdogan gave yesterday on the day to  commemorate the Armenian Genocide was a disgusting denial of  historical facts. I stand with Nikol Pashinyan and Armenians  everywhere in condemning a new low from this brutal authoritarian,"  stressed the congressman on his Twitter page.
To note, on April 24, Turkish President Recep Erdogan sent a letter  to the Acting Patriarch of Constantinople, Archbishop Aram Ateshyan,  in which he noted that 1.5 million Armenians had become victims of  the First World War victims of the previously planned Genocide. And  during one event, he said that many at that time were the result of  unrest provoked by "Armenian gangsters and armed groups."
"The deportation of Armenian gangster groups and their supporters who  killed the kulman of Western Anatolia, sparing neither women nor  children, at that time was the most reasonable decision," Erdogan  said.
Armenian Prime Minister Nikol Pashinyan called the speech of the  Turkish President on April 24 a new level of denial of the Armenian  Genocide and "an excuse for the massacre of the nation." The head of  Armenia called on the international community to respond to the hated  remarks of the Turkish president.
" Calling victims of Armenian Genocide, Ottoman Empire's entire  Armenian population, which was sent to death marches, as "Armenian  gangs & thr supporters", killing 1.5mm & justifying it by "most  reasonable action" is not just new high in denialism,but  justification of nation murder", Pashinyan wrote in his Twitter  microblog.