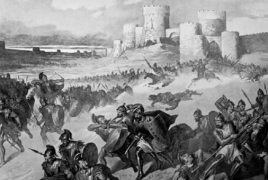 Armenian kings by Italian artists
Illustration of Armenian history
At the end of the 19th century the Mekhitarist fathers requested famous Venetian artists to make an illustrated chronicle of Armenian history. The names of some are known to us: Giuliano Zasso, Giovanni Fusaro and Giuseppe Canella.

May 21, 2016
PanARMENIAN.Net - About 40 graphic works were for the first time displayed at the Armenian National Gallery in 2005. Some of them were published as a separate collection in 2007. PAN presents 8 noteworthy works by these artists.
Italian aquarellist Giuseppe Canella the Younger (1837-1913) was the son of Giuseppe Canella the Elder (1788 -1847). Giuliano Zasso, 1833-1889 was a painter and the owner of a print shop. He also collaborated with San Lazzaro letterpress plant. Unfortunately, there is no information preserved about Giovanni Fusaro.
A number of Italian artists, specifically Classicism representatives, painted Armenian life scenes. The most known of their works are "Gregory the Illuminator baptizes Trdat King", the portraits of St Mesrop Mashtots and St Sahak Partev and "The Battle of Avarayr".
The first ever collection of the kind of published in French in 1887 on San Lazzaro (Surb Ghazar) island by Father Hakobos Isaverdentsi (1835-1902). In the pretext of the book he informs that Armenian rich manJean Aratun Bataviatsi (Hovhannes Harutyunian), who covered the expenses of the publication, appealed to him with a request to create a collection of Armenian historical and also mythical events. Isaverdentsi, who was a philologist and translator, used folklore and historiography, specifically the materials by Movses Khorenatsi and Mikael Zamchyan, in his work. Jean Aratun sponsored the first complete illustration of the Armenian history – about 6 dozens of graphic works – by Zasso, Canella and Fusaro. This unprecedented collection was further republished in the Mekhitarist textbooks.
Following the best traditions of European art, the Italian artists masterfully depicted the Armenian spirit through landscapes, buildings, political and military scenes, clothes and interior. Linking the landmark events of Armenian history with the most important antic episodes, they made a part of world chronicle.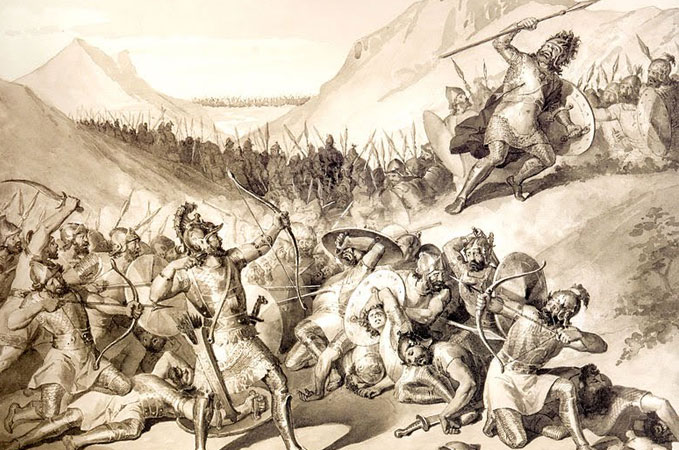 Giuliano Zasso, Hayk's Victory over Bel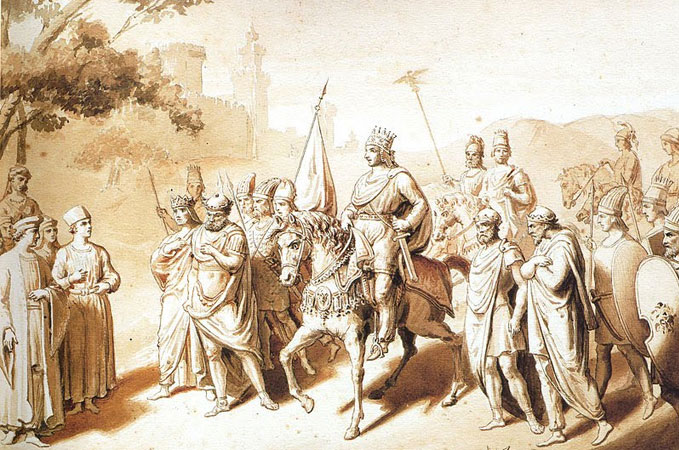 Giovanni Fusaro, Tigranes the Great and Four Kings
Greek historian and biographer Plutarch wrote about Tigranes II. "He was always surrounded by other kings, whom he rated as servants. But there were four of them accompanying him everywhere like bodyguards."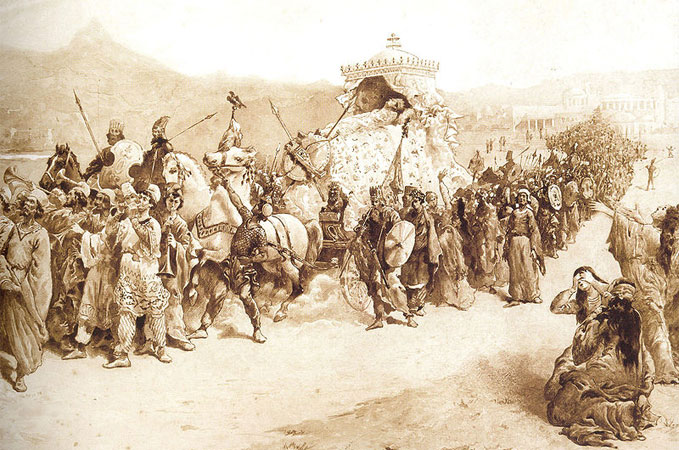 Giuseppe Canella, Funeral Artashes I
According to Movses Khorenatsi, everyone mourned the death of Artashes Barepasht (the Kind) and some people even committed suicide.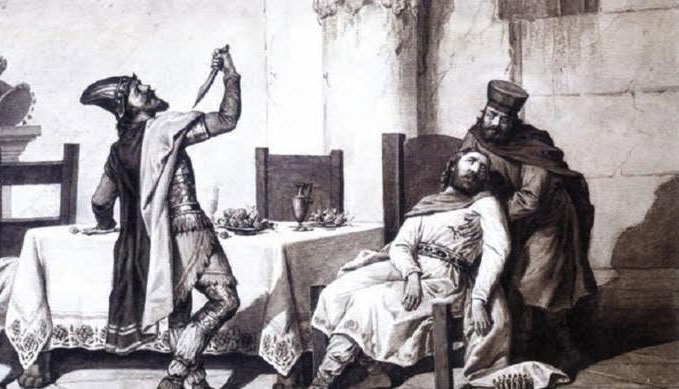 Giuliano Zasso, Drastamat commits suicide
The last extract from "Arshak and Shapuh" saga. Seeing that brutal force was not going to subjugate Arshak II, Persian King Shapur II turned to treachery and invited the Armenian King for peace talks. Arshak was taken prisoner upon arrival. Sometime 369 or 370, an Armenian named Drastamat visited the king in prison. He unchained Arshak and organized a feast to honor him. However, reminiscing on his glory days and feeling depressed, the Armenian King took his visitor's knife and killed himself. Drastamat, moved by what he had just witnessed, took the knife from Arshak's chest and stabbed himself as well.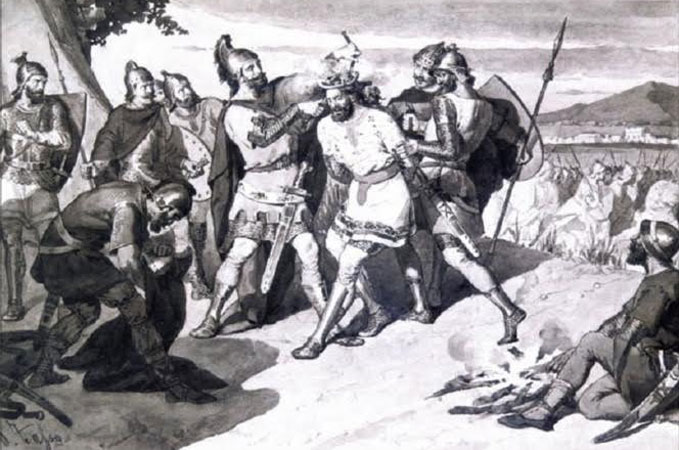 Giuliano Zasso, "Smbat Bagratuni brands traitor Meruzhan Artsruni"
Meruzhan Artsruni renounced Christianity and converted to Mazdaism. Shapuh promised him the Armenian throne only if Armenia were under the Persian rule. Meruzhan was arrested by Smbat Bagratuni, who heated the iron skewer, shaped it as crown and said. "I crown you, Meruzhan, because you were trying to reign in Armenia and I am obliged to crown you the way my ancestors did". And he put the heated skewer on Meruzhan's head. Thus, Meruzhan was executed.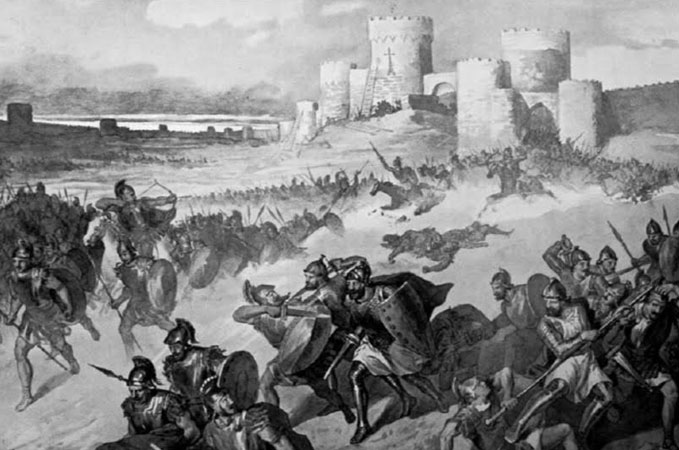 Giuliano Zasso, "Armenians defeat Byzantine forces attacking Ani"
The painting depicts famed commander Vahram Pahlevuni, who defends the capital from the attacking Byzantine troops (1043-44).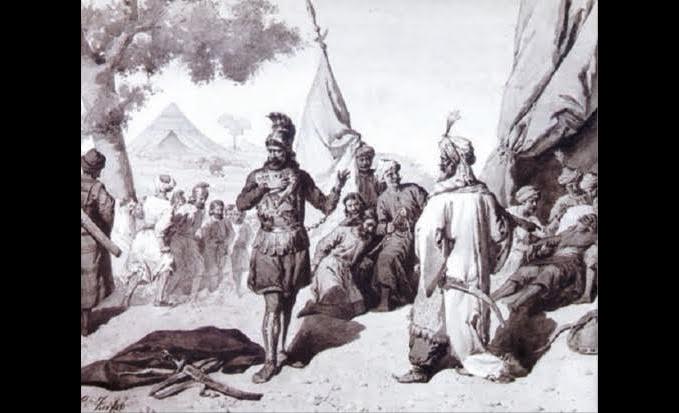 Giuliano Zasso, "Brave Tatul Vanandesti in front of despot Tughril"
In 1054, Seljuk troops headed by Sultan Tughril met heroic resistance by King Gagik I and the forces led by commander Tatul, who, unfortunately, was taken captive. Tughril promised to set him free in case one of his relative's son wounded by him in battles recovers. Tatul answered proudly: "If he was run through with my spear, he will never recover." After the man died, Tatul was executed.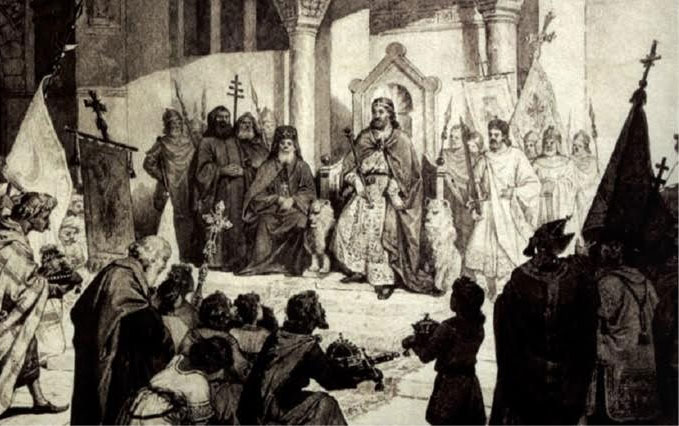 Giuliano Zasso, "Levon Metsagorts crowning"
The painting depicts the crowning of Levon II Metsagorts in Tarson on June 6, 1198
Source: Armenian history in graphic works by Italian artists (Mekhitarian Order Collection), Yerevan, 2007
Samson Hovhannisyan / PanARMENIAN.Net