Tourism 2007: Take a tour with a Texan
These streets are growing thick with map-toting, camera slinging summertime guests. Time, then, for ArmeniaNow to give you something to live by, when the easy living brings you to Armenia. And maybe something to feed your temptation for a visit, if it's somewhere in your thoughts.


The ArmeniaNow Tourism 2007 is our fifth yearly special edition for visitors and those who want to be. This one is our most user-friendly yet, packed with specific info that will tell you where to go, how to get there, what to see and, when possible, how much it will cost. How much easier could we make your vacationing life?
This week's edition, Tourism 2007 Part I, highlights (dissects might be a better word) the capital, Yerevan. On July 20, Part II will take you outside the capital to scenic regional attractions.
Both editions include hands-on travel information, sprinkled with a few essays and commentaries.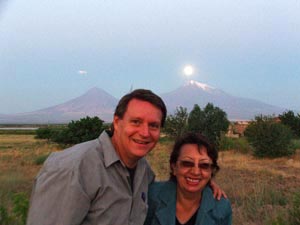 Tourism 2007, you'll see, is a collaborative effort, produced in partnership with Tour Armenia.
About the latter: Simply, Tour Armenia is Rick Ney. Simply, Rick Ney is . . . Well, that isn't so simple.
Rick first came to Armenia in 1992 to work at the American University of Armenia. In 1993 he began his work in humanitarian aid and development for USAID-funded projects at the Armenian Assembly of America and Fund for Democracy and Development, the latter as Caucasus Region Director. This morphed into writing about Armenia for various publications, which became the first English language complete guides to Armenia in 1997 (online) and 1998 (CD-ROM).
Rick is passionate about Armenia's deep history and ecology, and making the country accessible for independent travelers, whom he believes will be the basis of Armenia's entry into the open world. In 2000 he began dividing his time between Armenia and caring for a parent in Texas, both of which he considers the richest experiences of his life.
Rick is an Armen-o-phile. Before most of the non "ian" world had heard of Armenia, Rick – a Texan of all things – had already created a website (circa 1997) loaded with tourism information.
I met Rick in 1996. He was working on a "travel guide". It is 11 years later. The "travel guide" has become an encyclopedia. The Texan has written a book that is over 1000 pages and grows every time he sees something new – mapped and illustrated by his colleague Rafael Torossyan and translated when necessary by Bella Karapetyan.
If he can be forced to stop collecting information, the book – TourArmenia, or "Rick's Guide to Armenia" – will be published next spring.
Meanwhile, we have the benefit of Rick's massive research, presented for you here, with links to his website www.TACentral.com and a PDF version.
Happy summer. Enjoy.