Nov 04, 2014
Mississauga's Garebian wins pair of poetry awards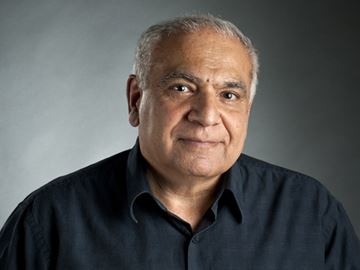 Keith Garebian Photo by Elisabeth Feryn
Lakeview writer Keith Garebian will launch his first book of haiku poetry, Moon On Wild Grasses, on April 21.
Mississauga News
MISSISSAUGA – It's been a couple of days to wax poetic about for Keith Garebian.
On Oct. 25, the Lakeview resident was named winner of the 22nd annual Surrey International Writers Conference Poetry Award. The next day he won third prize for another of his poems at the 29th annual Canadian Authors Association (Niagara Branch).
The Surrey award came with a $1,000 prize, and went to Garebian for Armenian Elegy, which he describes as a "lament for the dead" – a reference to the estimated 1.5 million Armenians who were massacred by the Ottoman Turks during the 1915 Armenian genocide.
"I am particularly gratified that a poem about the Armenian half of my ancestry has touched a chord because as I get older, I seem to be exploring more deeply that part of my psycho-literary self," he said.
Born in India to an Armenian father and Anglo-Indian mother, Garebian previously wrote on the genocide in Pain: Journeys Around My Parents (a memoir published in 2000 and long out of print), and Children of Ararat, a collection of 56 poems he published in 2010.
In addition, he has contributed to www.keghart.com, a prominent online site devoted to Armenian culture and issues.
The Surrey announcement was made Oct. 25 as the conference wound up at the Sheraton Vancouver Guildford Hotel with the awards banquet. Garebian could not attend because he had to read his second prize-winning poem, Hands (from his forthcoming poetry collection about Georgia O'Keeffe and Alfred Stieglitz), closer to home in St. Catharines.
Garebian, 71, is no stranger to winning awards; last year alone he won the Mississauga Arts Award (Established Literary) for his book Moon on Wild Grasses and the prestigious William Saroyan Medal, named in honour of the great Armenian American dramatist and author. He's taking the latest in stride.
"Awards – especially in poetry – are always subjective, as I well know, having served as poetry juror numerous times, but they are always welcome because they bring you acknowledgement, encouragement, validation and sometimes monetary compensation," he said.
Garebian immigrated to Canada in 1961. Twelve years later he obtained a Ph.D. from Queen's University and launched his career as a freelance literary and theatre critic. His diverse writing has been published in roughly a hundred newspapers, journals, magazines and anthologies.
He's also a prolific author, and will have two new books appearing next spring – the aforementioned Georgia and Alfred – and a work of political satire masquerading as literary parody, Accidental Genius (from Guernica). This will bring his total count to 21 books published since 1983.